MQ 9 Reaper Drone : Crashed Into Black Sea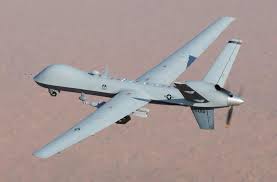 An MQ-9 Reaper drone belonging to the United States Air Force recently crashed into the Black Sea due to collision with a Russian Su-27 jet fighter.
MQ 9 Reaper also known as Predator B, is an unmanned aerial vehicle (UAV) capable of remotely controlled or autonomous flight operations.
It is developed by General Atomics Aeronautical Systems (GA-ASI), primarily for the United States Air Force (USAF).
It is remotely operated by a two-person team consisting of a pilot and an aircrew member who operates sensors and guides weapons.
The US uses the MQ-9 Reaper for both surveillance and strikes.
It is 11 metres long with a wingspan of over 22 metres.
Reapers can be armed with air-to-ground Hellfire missiles as well as laser-guided bombs.
It carry as many as 16 Hellfire missiles, equivalent to the payload capacity of an Apache helicopter.
It can fly at an altitude of 50,000 ft (15 km) and can loiter over targets for for over 27 hours.