N. Rangasamy: Puducherry CM: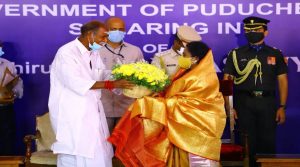 Prime Minister Narendra Modi has congratulated N. Rangasamy on taking oath as Puducherry CM.
Puducherry is a Union Territory of India rather than a state, which implies that governance and administration fall directly under federal authority.
However, Puducherry is one of the three union territories in India (the other being the National Capital Territory of Delhi and Jammu and Kashmir) that is entitled to a special constitutional amendment to have an elected legislative assembly and a cabinet of ministers, thereby conveying partial statehood.
The Pondicherry Representative Assembly was converted into the Legislative Assembly of Pondicherry on 1 July 1963 as per Section 54(3) of The Union Territories Act, 1963.
The elections for the Puducherry Vidhan Sabha are held since 1964.