Nobel Prize In Chemistry For 2023: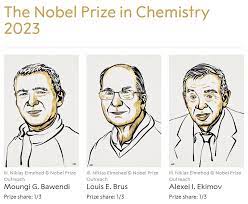 The Nobel Prize in Chemistry for 2023 has been conferred upon Moungi G. Bawendi, Louis E. Brus, and Alexei I. Ekimov for their groundbreaking work on quantum dots.
These tiny nanoparticles have far-reaching applications in various fields, from electronics to medical diagnostics.
Quantum dots are nanoparticles with unique properties, whose characteristics are governed by quantum effects.
They emit clear light and are used in television screens, LED lamps, and medical applications.
Their applications range from catalyzing chemical reactions to illuminating tumor tissue for surgical procedures.