Uttaramerur Inscription: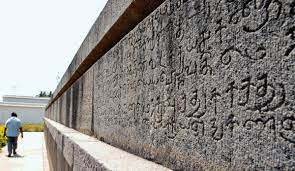 Prime Minister Narendra Modi referred to the Uttaramerur inscription in Kanchipuram, Tamil Nadu, while discussing India's democratic history.
The Uttaramerur inscription, dated around 920 A.D. in the reign of Parantaka Chola
Uttaramerur is situated in the Kancheepuram district, about 90 km from Chennai.
The Pallava king Nandivarman II established it around 750 A.D.
The Uttaramerur inscription testifies to the historical fact that nearly 1,100 years ago, a village had an elaborate and highly refined electoral system and even a written constitution prescribing the mode of elections.
The details of this system of elective village democracy are inscribed on the walls of the village assembly (grama sabha mandapa), a rectangular structure made of granite slabs.
The inscription gives astonishing details about the constitution of wards, the qualification of candidates standing for elections, the disqualification norms, the mode of election, the constitution of committees with elected members, the functions of those committees, the power to remove the wrongdoer, etc.
The villagers even had the right to recall the elected representatives if they failed in their duty.
Inscriptions on temple walls in several parts of Tamil Nadu refer to village assemblies.