Bhalia Variety Of Wheat: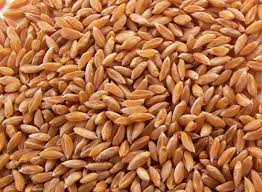 In a major boost to wheat exports, the first shipment of Geographical Indication (GI) certified Bhalia variety of wheat was exported today to Kenya and Sri Lanka from Gujarat.
The GI certified wheat has high protein content and is sweet in taste.
The crop is grown mostly across Bhal region of Gujarat which includes Ahmadabad, Anand, Kheda, Bhavanagar, Surendranagar, Bharuch districts.
The unique characteristic of the wheat variety is that grown in the rainfed condition without irrigation and cultivated in around two lakh hectares of agricultural land in Gujarat.
The Bhalia variety of wheat received GI certification in July, 2011. The registered proprietor of GI certification is Anand Agricultural University, Gujarat.